Drones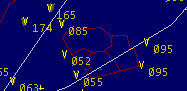 Drones are automated aircraft that fly on the network 24/7. Their appearance and flightpath are carbon copies of flights that were recorded by our pilots.
The drones are there to provide background traffic. In the real world, it's very common for ATC to point out aircraft to you that are "VFR and not talking to anyone." The same will happen here.
These are not computer-generated aircraft, they are recordings of flights that were done by a human being
. If you need any evidence of this, simply watch one of them try to land! We're still trying to work out if they landed or were shot down!
Since they do not respond to ATC commands, and do not make any radio transmissions, they remain clear of Class A/B/C/D airspace. You should be aware that the drones generally operate in and out of non-towered fields, and as such, should remain vigilant for aircraft in the pattern that are not talking on the radio, and are seemingly oblivious to your presence. Boy, this IS just like real life, isn't it?
Here are the 5 most recent drones that have been added to the network. Use the sub-pages on the left for a more detailed listing.
| | | | | | |
| --- | --- | --- | --- | --- | --- |
| Callsign | Equipment | From | To | Duration | Description |
| BA5 | M20P | KRBL | KRIU | 54m | Leaves every 5-10 mins, Red Bluff to Rancho Murieta at 5500ft |
| BA6 | M20P | KRIU | KRBL | 55m | Leaves every 5-10 mins, Rancho Murieta to Red Bluff |
| CL5 | PA46 | 0Q3 | KAUN | 45m | leaves every 10 mins. Sonoma Valley to Auburn |
| KS30 | P32R/M20P | 8CL1 | O09 | 3h19m | Lake Wohlford OCN LAX FIM AVE PXN OAK ENI Round Valley 10500 |
| SG2 | PA44 | F25 | 2O1 | 33m | Leaves every 5-10 mins, Brownsville to Gansner via Lake Oroville and the river through China MOA. Cruise 7500', straight-in approach to Gansner rwy 2, with authentic Mooney float, using up most of the runway |